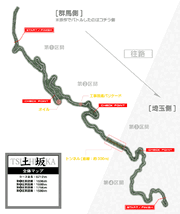 Tsuchisaka is the Saitama Lan Evo Duo's home course. It is located far west of Sadamine; and far northwest of Shomaru, Hanno; stretching between Kanna and Nishi Chichibu of the Gunma and Saitama prefectures.
This course is perhaps famous for the oil spill, courtesy of the Saitama Evo Duo, at the start of Outbound Section 2 and near the end of Inbound Section 3.
Ad blocker interference detected!
Wikia is a free-to-use site that makes money from advertising. We have a modified experience for viewers using ad blockers

Wikia is not accessible if you've made further modifications. Remove the custom ad blocker rule(s) and the page will load as expected.