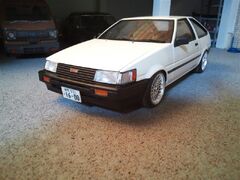 The Toyota AE85, sold as the Toyota Corolla Levin, Toyota Sprinter Trueno or Toyota Corolla DX is a rear-wheel drive sportscoupe manufactured by Toyota from 1983-1987. The AE85 shares its chassis and basic design with the famous AE86, but while the AE86 was designed for performance, the AE85 was designed for economy and differs mainly in its engine.
The inaugural AE85 model's standard equipment included Toyota's 3A-U carburetor-equipped SOHC motor displacing 1452cc (cubic-capacity/cubic-centimeters) and the cable-clutch K50 transmission. It did not incorporate the hydraulic T-50 transmission, nor the limited-slip(LSD) differential and rear disc brakes of the higher-performing AE86 version of the car. Both AE85 and AE86 were available in coupe or hatchback form, and also with the fixed headlight front (Levin) or pop-up lights (Trueno). Because of their identical outward appearance, the two can sometimes be mistaken. The Corolla Levin was unique to Toyota Japan retail sales channel called Toyota Corolla Store, and the Sprinter Trueno was available new only at Toyota Vista Store locations. Its common-use is when privateer racing teams in Japan convert the AE85s into AE86s, because it's much cheaper (ex. DROO-P AE86 Coupe was originally a AE85, Ueo's year 2000 AE86 was an AE85 as well as his 2003-2004 Season Car).
The car is known in Japan as the Hachi-Go (ハチゴー, meaning "Eight-Five"). The word "trueno" is Spanish for thunder, and "levin" is Old English for "lightning".
In Episode 10, Itsuki Takeuchi purchases an AE85 Levin, mistaken for an AE86 Levin without checking it.
Specifications
Edit
Engine Name: 3A-U
Engine Type: L4 SOHC
Max power: 83 HP/5600 rpm (Later changed to 150hp)
Maximum torque: 117.68 Nm/3600 rpm
Displacement: 1452 cc
Drivetrain: FR
Aspiration: NA (later turbocharged and intercooled)
Length: 4205 mm
Height: 1335 mm
Width: 1625 mm
Weight: 950 kg
Transmission: 5MT
Ad blocker interference detected!
Wikia is a free-to-use site that makes money from advertising. We have a modified experience for viewers using ad blockers

Wikia is not accessible if you've made further modifications. Remove the custom ad blocker rule(s) and the page will load as expected.