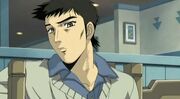 Toru Suetsugu (末次 トオル Suetsugu Tōru) is the downhill racer for the Seven Star Leaf team and known for his reckless, kamikaze downhill style. Toru is also the only driver in the series who actually has a decent relationship; he has a girlfriend called Nao. Nao cares for him very much and she doesn't really approve of him racing, especially that he is practically broke almost all of the time and borrows money from her often.
When the Seven Star Leaf team is challenged by Ryosuke's Project D. Tohru is slated to race against Takumi. Again he borrows money from his girlfriend for a new set of tires. She agreed, with a condition: if he is defeated, he'll have to stop racing, or they will have to break up. He lost when he tried to emulate Takumi's weight-shifting technique of bypassing the uncovered gutters: his right front wheel snagged on the open gutter, flipping his car over once before coming to a standstill. In the end, he adheres to Nao's request - only to find out she stated the ultimatum just to guilt him. Nevertheless, he expresses his gratitude for facing Project D.
| | |
| --- | --- |
| Age | Unknown |
| Sex | Male |
| Car | Eunos Roadster NA Package (NA6CE) |
| Year | 1991 |
| Plate | 86-596, classification 55 |
| Color | Classic Red |
| Engine | 16v B6-ZE |
| Custom Parts | Mazda Roadster 1993 Wheel, Mazda Eunos Roadster Skirt Kit with Mud Guards, Mazda Eunos Roadster Spoiler, Mazda Roadster 1993 Mirrors, Mazda Detachable Hard Roof top, Nardi Classic Steering Wheel, Bucket Racing Seats, Toda overbore pistons, Toda lightweight flywheel, RS Aizawa Individual Throttle Bodies, RS Aizawa coolant reroute, Cusco oil catch can, Cusco front strut tower bar |
| Japanese voice actor | Daiki Nakamura |
| English voice actor | Chris Patton |
Ad blocker interference detected!
Wikia is a free-to-use site that makes money from advertising. We have a modified experience for viewers using ad blockers

Wikia is not accessible if you've made further modifications. Remove the custom ad blocker rule(s) and the page will load as expected.