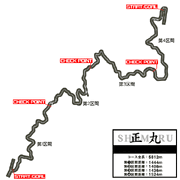 Shomaru pass (正丸峠 Shomaru tōge) is the home course of Wataru Akiyama, located in Hanno, Saitama, south of Sadamine. It is perhaps well known for the Okumura Teahouse (奥村茶屋 Okumura Chaya), a place where the characters gather before the race.
Ad blocker interference detected!
Wikia is a free-to-use site that makes money from advertising. We have a modified experience for viewers using ad blockers

Wikia is not accessible if you've made further modifications. Remove the custom ad blocker rule(s) and the page will load as expected.