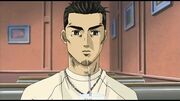 Sakamoto (坂本, Sid) is a rally driver who trains almost exclusively on mountain passes. He has the uncanny ability to take any car and put it in a drift on a mountain pass, usually to figure a car's characteristics and limitations. He was outsourced by Wataru Akiyama, recruited by Nobuhiko in a desperate measure to defeat Takumi Fujiwara of Project D in a downhill race using a Suzuki Cappuccino, a Kei Car lighter than the Eight-Six. His speciality is driving Front engine, rear drive layout cars.
| | |
| --- | --- |
| Age | 26 |
| Sex | Male |
| Car | Suzuki Cappuccino (EA11R) |
| Year | 1995 |
| Plate | 35-218, classification 71 |
| Color | Cordoba Red |
| Custom Parts | Elite SPL Front Bumper, Elite SPL Rear Spoiler, Racing Gauges (180 km/h speedometer and 9500RPM tachometer upgrade), Gold EA11R Rims, Unknown sports muffler |
| Japanese voice actor | Hiroyuki Yoshino |
| English voice actor | Orion Pitts |
Ad blocker interference detected!
Wikia is a free-to-use site that makes money from advertising. We have a modified experience for viewers using ad blockers

Wikia is not accessible if you've made further modifications. Remove the custom ad blocker rule(s) and the page will load as expected.