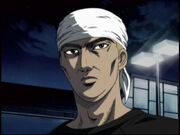 Kyoichi Sudo (須藤 京一 Sudō Kyōichi, "Kyle") is the team leader and driving ace of the Lancer Evolution-only Emperor team from Gunma (according to his license plate, though it is changed to Tochigi in later series), and one of the best drivers in the series. He drives a Mitsubishi Lancer Evolution III powered up to 350 hp equipped with a WRC style misfiring system. In his philosophy, a car must have a high power turbo and all-wheel drive.
An old acquaintance of Ryosuke Takahashi of the Akagi RedSuns, Kyoichi is much like Ryosuke: he is a calm and composed driver, compared to his teammate Seiji. Eager to show Ryosuke that he and his team are the best, Kyoichi and the Emperor team goes on to beat the various teams of Gunma, including the NightKids. He believes in the ultimate superiority of his race circuit techniques, whilst Ryosuke holds that street racing has its own special requirements. His home course is one-way, so he is unable to fully attack blind corners on two way roads, supporting Ryosuke's view. He is also often considered the first driver to have beaten Takumi, when Takumi blew out his engine at Akagi, but lost during a rematch at Irohazaka. It should be noted however, that the result should normally be considered a tie at best, and the race itself did not last more than one round. Kyoichi declared Takumi as the winner for merely being able to resist being overtaken at the last part of the course where other drivers fell prey to him. To Kyoichi, who takes pride in his ability to win, a tie at his home turf is equivalent to a loss.
He is also a graduate of the racing school, the Todo School, despite having no prior-hinted connections to the institute: his Evo III is a stark contrast to the FWD Hondas the students use, and Sudo uses no Spoon Sports parts on his vehicle.
He and the Two Guys From Tokyo might be the only ones in the series to feature a stock interior in their cars. The only modifications done to the car is the increment of Horsepower to 350 HP and a WRC Anti-Lag/Misfiring System to cure Turbo lag.
| | |
| --- | --- |
| Age | 23 |
| Sex | Male |
| Car | Mitsubishi Lancer Evolution III GSR (CE9A) |
| Year | 1995 |
| Plate | 30-395, classification 58 |
| Color | Pyrenees Black |
| Engine | Auto Produce Boss 2.0 L 4G63 III 350PS Complete Engine Setup + Aftermarket Turbine |
| Custom Parts | Ralliart Muffler, Rally-style Anti-Lag "Misfiring System", Recaro Bucket Seats & Emperor Sticker |
| Japanese voice actor | Masahiko Tanaka |
| English voice actor | Richard Cansino (Tokyopop Dub), Christopher Sabat (Funimation dub) |
| Actor | Jordan Chan |
Ad blocker interference detected!
Wikia is a free-to-use site that makes money from advertising. We have a modified experience for viewers using ad blockers

Wikia is not accessible if you've made further modifications. Remove the custom ad blocker rule(s) and the page will load as expected.