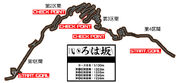 Iroha Slope (いろは坂) or Irohazaka is the home course of Team Emperor, it is located in Nikko, Tochigi, east of Lake Chuzenji.
The first half course (the downhill) has a rhythm of straight-hairpin-straight-hairpin-straight, while the second half (the uphill, not used in the series) has more circular turns, ignoring the straights.
This course is also where Ken Kogashiwa taught his son Kai how to jump at the shortcuts in the 33rd corner (the 13th downhill hairpin), and later the 36th through 39th (16th through 19th downhill corners).
Ad blocker interference detected!
Wikia is a free-to-use site that makes money from advertising. We have a modified experience for viewers using ad blockers

Wikia is not accessible if you've made further modifications. Remove the custom ad blocker rule(s) and the page will load as expected.